A review of Donald S. Whitney's book Praying the Bible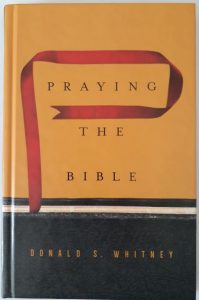 This book is designed to help Christians escape the monotony of boring prayers. In it, Whitney describes how many people say the same old thing over and over when praying. If this is boring for us, how do you think for God feels about it? No one enjoys a boring task, so it is easy to not to want to pray.
Is this our fault? Should we feel guilty about it? Can prayer be exciting and meaningful? Whitney does a very good job answering these questions and provides a simple solution. He shows how praying the Bible can breathe life into your prayers and make it the rewarding relational experience that God intended.
Does praying the Bible sound too simple? Whitney makes the point that prayer was not meant to be complicated. Then he provides a clear explanation along with great examples to illustrate how to do this.
I was familiar with the concept of praying the Bible before reading this book. However, I gained new and useful insights. His method actually works. I can now pray without worry of my mind wandering. I value my time with God and look forward to it. Praying the Bible can help you look forward to talking with God also!
Whitney's book is a quick read and would be helpful for both new and experienced Christians.  I recommend it for anyone who wants to take praying seriously.
Donald S. Whitney is professor of biblical spirituality and associate dean at Southern Baptist Theological Seminary in Louisville, Kentucky.