A review of Dr. D. James Kennedy's book Why I Believe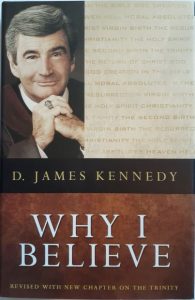 What do you believe and why? In this book Dr. Kennedy gives intelligent reasons for believing the tenets of the Christian Faith. He makes the case that Christianity is not a religion based on blind faith but on facts and reality. He answers such questions as:
Why I believe in the Bible
Why I believe in God
Why I believe in Creation
Why I believe in Moral Absolutes
Why I believe in the Return of Christ
And many more
Dr. Kennedy cites historical and archaeological evidence for believing in the Bible. He explains the scientific evidence for a Creator. He demonstrates how the universal human belief in the afterlife and the historical facts around Jesus resurrection address the existence of heaven and hell.
Readers will be engaged and challenged by Dr. Kennedy's discussions for and against Christianity. He even tackles one of the most difficult concepts of all, the Trinity.
Why I Believe is a great read for anyone who wants to be able to explain why their beliefs about God. I also highly recommend it for young people before they go off to college. It can equip them to have intelligent conversations with those who do not believe in Jesus.
The late Dr. D. James Kennedy was widely known as the founder of Evangelism Explosion, former pastor of Coral Ridge Presbyterian Church in Florida, and leader of Coral Ridge Ministries and Knox Theological Seminary.