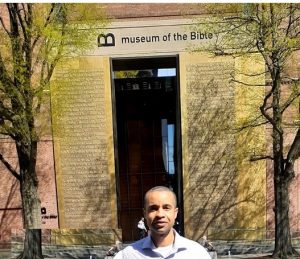 Last month I had the privilege of visiting the Museum of the Bible in Washington, DC. It was a great experience to see and understand some of the rich history around the Bible. The museum offers something for all ages. There's a special section for children however, even in the other areas, they can be engaged by fun and informational videos. With so much to see, I wasn't able to take it all in with one visit and look forward to going back.
Besides the impressive displays including ancient artifacts and manuscripts, what really stood out was the story they told. The Bible is not just a curious ancient book. Yes, history and archeology have verified the Bible. However, the Bible is book for All Time for All People.
The grass withers, the flower fades,
But the word of our God stands forever. (Isaiah 40:8)
Lord, to whom shall we go? You have the words of eternal life. (John 6:68b)
God gave us His Word out of love so that we can know Him.  He invites us to share His Word with others so they can know Him also.  One area of the museum that speaks to this is the section on Bible translations.  There are shelves showing languages that have Bibles available and those that do not.  It is amazing with all our technology and globalization, there is still work to be done to give access to God's Word in people's native languages.
Its easy for us in America to forget the high price that was paid by Christians of the past to get the Bible translated into English.  Let us be thankful, read our Bible as if we value it, and pray for those who don't have free access to God's Word.  If you can make it to the Museum of the Bible it will be a worthwhile trip.  You'll enjoy the visit and be inspired!