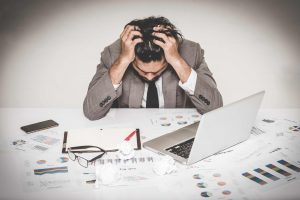 What do you do when plans fall apart, hopes are smashed, and dreams turn into nightmares?  Last year started with a lot of promise and was one of the busiest I can remember.  I had a great new job, was excited about a rental property, and was looking forward to moving close to my Dad.  Unfortunately, most of what I remember of 2022 was miserable. 
The rental property renovation that I expected to be quick and easy turned into a nightmare. There were unforeseen problems and unexpected costs. These were made worse by the shortage of contractors and reliable workers coming out of the pandemic. So, a 3 month project became a yearlong financial draining headache.
The rental woes put extra stress on my move which did not go as hoped either. Since the real estate market was going crazy, the house we could get, while in a good location, needed a ton of work. I lost a lot of time and money trying to make up for contractor missteps and not showing up, which took time away from family. The purpose of the move was to have more time with family, so this just added to the frustration and stress.
It was overwhelming. How did I make it through? Was it grit and determination? Was I stronger than the average man? No. My resourcefulness and generally positive attitude were not enough for 2022. It was God's grace and mercy that carried me through. Glimpses of goodness and remembering His blessings gave hope.
That great new job had a lot of flexibility and allowed me to roll with the unexpected punches and keep the bills paid. The move did put us close to my Dad, so my kids could spend time with their grandfather. It was a real joy to see the delight on their faces regularly. Our new neighbors are awesome. Our new church sings wonderful hymns and sacred songs that I've missed for many years. My family was healthy. I had a lot to be thankful for.
And even better than these nice earthly things was the fact that Jesus loved me and I could take problems to Him. He experienced being let down and disappointed by people and having them not listen and cause problems. Jesus knew how I felt and was ready to comfort. This is why the Bible says,
Be anxious for nothing, but in everything by prayer and supplication, with thanksgiving, let your requests be made known to God; and the peace of God, which surpasses all understanding, will guard your hearts and minds through Christ Jesus. (Philippians 4:6-7)
Knowing I was not alone and did not have to rely on myself was a great relief in a terrible year.  Thinking of the blessings gave hope for the future and confirmed God was at work even though it was not comfortable.  Hopefully, you can remember you are not alone in dark times.  When things are out of your control, the Lord is still in control, so talk to Him about it and trust that He will see you through the difficulty.  You don't have to rely on yourself today, this month, or this year!